Thanks to ISCOWP donors, we have purchased a cow chute to be proactive with our cow health care. This video is of the cow chute's arrival and installation. Thank you, Keith and Kevin, for preparing the site for the installation. There will be more videos of its use in the near future.
Priyavrata was the first one in the cow chute. Historically, Priya is the last one in the herd to tolerate any form of confinement. He has a strong personality, wants everything in his life to be on his terms, and is not a follower but a leader. When we moved the herd from West Virginia to Florida, Priya took 6 hours and the efforts of about five cowherds to get him in the trailer.
Priyavrata cooperated well, getting in the chute. (Please view the video of his experience.) However, he wanted out after a while, and we let him leave. With the limited time Dr. Jill had to look at his feet, she concluded that his hoof had cracks. So, as we expected, Priya will need a Farrier. But Priya needs to practice getting in the chute and staying there for a while, so it will be possible for a Farrier to treat his hoof safely.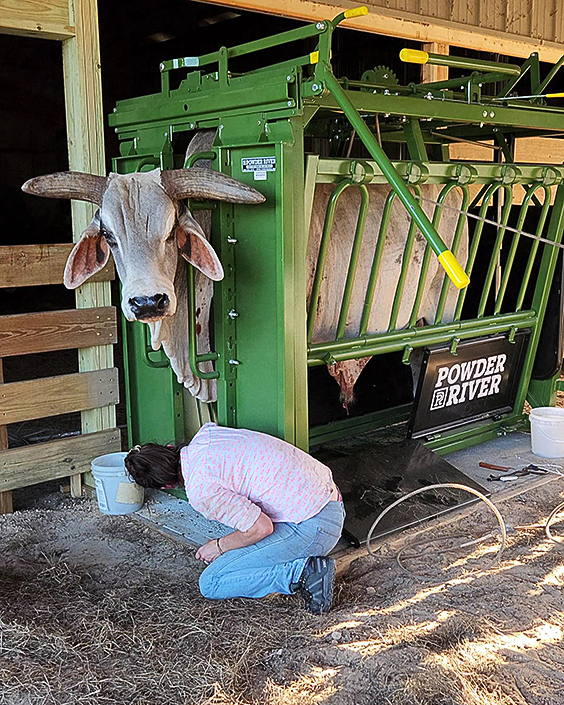 We realized all the cows should be trained to use the cow chute. It would be best to familiarize them with it starting at a young age. Then entering the cow chute will not be an unknown event. They would have learned they could look out the end, and they will eventually leave after treatment. Familiarity excludes fear of the unknown.
Nara Amazed Dr. Jill
Nara, one of our rescued oxen, has lived in the hospital pasture for about one year. A hip injury prevents him from pasturing with the rest of the cows. He can walk about, get up, and sit down, but any vigorous activity can result in him crippling himself. Dr. Jill treated him with acupuncture and medicine, as no surgery was applicable.
When she saw him during her recent visit, she was amazed that he was growing back muscle mass. Dr. Jill exclaimed several times how astonished she was by his improvement. Usually, after such an injury, there is a decline in muscle mass. This improvement doesn't mean he can move back into the herd, but it does mean he can live a healthier and more comfortable life.
Did You Know?
Approximately 18,000 cows were killed in a blast at a Texas dairy farm earlier this week. While the exact figure of cows that were killed by fire and smoke remains unknown, the Sheriff's Office told the BBC that an "estimated 18,000 head of cattle" had been lost. Speaking to local news outlet KFDA, Sheriff Sal Rivera said that most of the cattle had been lost after the blaze spread to an area in which cows were held before being taken to a milking area and then into a holding pen."There's some that survived," he was quoted as saying. "There's some that are probably injured to the point where they'll have to be destroyed."
In a statement sent to the BBC, the Washington DC-based Animal Welfare Institute said that – if confirmed – a death toll of 18,000 cows would be "by far" the deadliest barn fire involving cattle since it began keeping statistics in 2013. "We hope the industry will remain focused on this issue and strongly encourage farms to adopt common sense fire safety measures," said Allie Granger, policy associate for AWI's farm animal program. "It is hard to imagine anything worse than being burned alive." BBC