Hare Krishna!
Dwadasi, Asha and Kalki are some of our cows who are old and have health problems mostly with their legs due to arthritis. These cows can no longer keep up with the herd on pasture. A small fenced in pasture is available for these cows but there is no shelter there from the rain, sleet or any inclement weather. At this location they won't be stressed to keep up with the herd yet they have facility to pasture to their ability. Read more about this needy project at this issue and/or you can donate here.
Take a look at the cow booth at Toronto Rathayatra, harvesting and maintaining the garden, welcoming HH Bhakti Raghava Swami to ISCOWP to discuss the importance of cow protection in Maharaja's Varnasrama Dharma ISKCON Ministry and rescuing Dwadasi and Asha from the deep woods in the following articles of this e-newsletter.
A little note: We are now watermarking all our photos due to continual illegal use of our photos.
May Lord Krsna bless you for your support of cow protection. Thank you for all your help.
Your servant,
Chayadevi
ISCOWP Co-Managing Director
Old Cows Need Shelter!
During the recently very hot days Dwadasi stayed down the hill in the woods. Then Asha joined her, and both stayed down there separate from the herd. We became concerned about them as they did not come up for a week or two. Dwadasi's feet were sore and Asha is always challenged to move around due to her birth disability in her hips. We decided to move them up from the woods. Dwadasi followed the bucket of grain. A road had to be made for Asha so she would have a way to more easily traverse the woods and mud. After the road was built, Asha followed Mikey and his grain bucket.
We want to lock them into the small pasture which is relatively flat. Otherwise they may again go down in the woods. Unfortunately, we have heard coyotes again howling from down there. But no shelter is there in the small pasture. A simple shelter would work fine for them and Kalki. Won't you please make them happy by donating to providing them shelter. Here is the break down of cost:
| | |
| --- | --- |
| Lumber | $1,575 |
| Delivery of lumber | $125 |
| 6 X 6 X 16 beams | $350 |
| Site preparation | $240 |
| Tin roof | $328 |
| Hardware, nails, screws, lag bolts | $300 |
| Labor | $3000 |
| TOTAL | $5,918 |
You can donate HERE.
Spreading the Word
Special Thanks to Raj Grover and family for Hosting the ISCOWP Staff while in Toronto.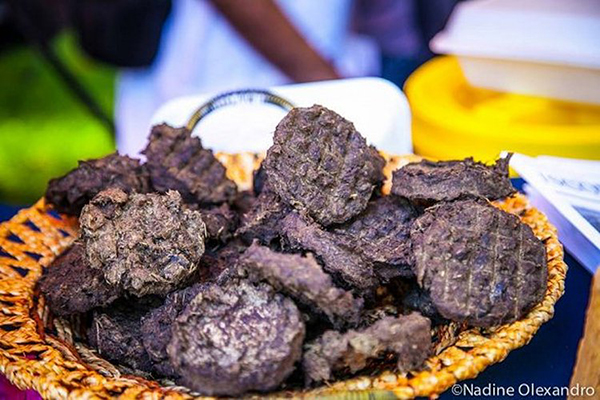 Lord Krsna's Garden Magic
Brushing Cows